Is there any thing that you thought she didn't notice? Sorry to break your dream but she did notice it. Your girl notices things that you have no idea about. Be it a small habit or something you did. She noticed it. She might not say anything but that doesn't mean she didn't see it. Her observational skills are so high that you haven't got the tiniest idea about.It's not just your day to day activities or habits that she notices. Even in the middle of orgasm, her brain works. She notices your every twitch and every moan. Do you want to know what else women want in bed? Keep reading.
Read Also : 10 Adorable Fights Only Married Couples Have
7. The Shape Of Your Body
She's in love with the shape of you. Yes. She notices how your muscles tighten when you are doing it. She notices your every curve and every mole. She knows your entire body so well that she can imagine it without any difficulty.
6. The Way You Breathe
We know your breathing when we kiss you, or play with your earlobes, or do something amazing. Your breathing style tells us whether you are enjoying it or not. Yes, that's how well we know you.
5. The Way Your Tongue Feels
Some tongue are smooth as butter, whereas, some are coarse like pebbles. Every tongue tells a different story. We notice the pace, the pressure with which your tongue is moving. This tells a lot about whether you are enjoying the work or not.
4. The Way Your Fingers Work
Their curves, the shape of your nails, or how big your fingers are. The spaces, the skin, the lines, we know everything. If asked, we can write a whole paragraph on your fingers. We even notice how your fingers work against our body. The movement along our curves and the style.
3. The Weight Of Your Body
We don't think you are fat. I swear. Girls infact like guys who are well built. Your weight makes her feel that you can pin her down whenever you want. It kinda makes her feel safe. She knows she got someone strong to take care of her.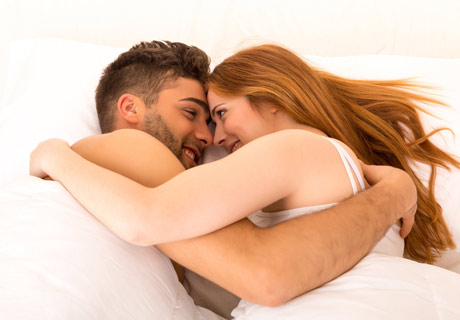 2. The Way You Taste
Not just that guys. We taste your cheeks, your body, your lips and everything. You are like our food. We eat you through all our senses. We like the way you taste after taking a shower or after the action. I know it sounds weird but that's just the way we are made.
1. The Way You Sound
Ah the most sexiest part. Yes, we love the way you sound. We love your sound when you laugh, when you whisper, when you moan, when you are gasping for air. Yes we love all that. Your voice is like a drug for your girl. You have no idea how soothing your voice seems to her.
You might be wondering if all these are true. Why don't you start up a conversation with your girl? Don't lose your senses though.